Course details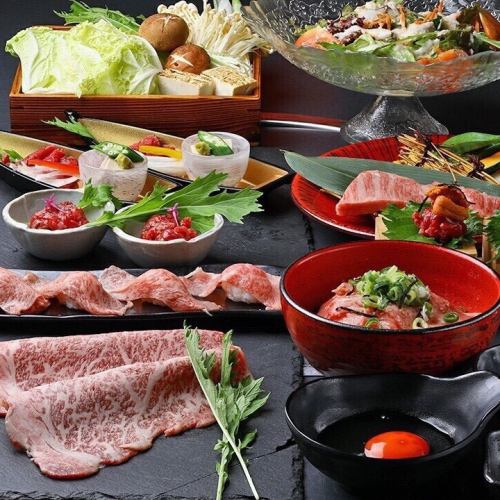 【Luxurious!】 Shaku-shabu / Kobe beef grip ... etc. "Meat" Bamboo "Course" All 8 items 8500 yen ⇒ 8000 yen (with drinking)
8000 yen
Normal drinks with all you can eat / cooking only 6000 yen
8items

2

-

28persons

All-you-can-drink available

120 minutes (90 minutes LO) 2000 yen ※ In the case of premium all you can drink +1000 yen
Meat culinary courses of the pine that sticks to the meat.We prepare various ways of eating meat, such as grilled · grilled · · ·.A luxurious meat for the meat. .※The photograph is an image.It will be a tax exclusion fee
Course menu
Meat cuisine "Bamboo" course
(Sun - Thu only) All 8 items 8500 yen ⇒ 8000 yen (with drinking water)
◆ Yam Yolk Salad Special Sesame Dressing
~ Original flavor of yam, and tenaciously compatible with special sesame dressing ~
◆ Today's fresh fish sashimi
~ Fresh fish of the day, fresh fish adapted to the season is offered ~
◆ Grilled handful of Kobe Beef 2 red bowls
~ Popular! Kobe beef broiled luxuriously ... ... ~
Wagyu Meat of Wagyu Beef
~ Sweet taste and rich taste and rich taste and creamy texture ~
◆ Today's steak
~ Soft, like melting on the tongue when put in the mouth, mellow taste ~
◆ A5 ranked Momonaki Shabu
~ Baked luxury meat quickly Shabu! Eat with special sauce ~
◆ Oda Ochazuke
~ The last is okazuke ... the compatibility with pre-tempura sea bream is preeminent ~
◆ Dessert
※ Contents change by purchase.
------- ◆ Reason why the pine tree was chosen as a party ◆ -------
【1】 The manager tries to buy meat that you do not care about ... to make customers enjoy the best taste today.We buy meat such as Kobe beef and Kuroge Wagyu beef from the finest Saga prefecture.【2】 Restricted ingredients other than meat ... Rice is Koshihikari from Hyogo Prefecture, vegetables purchased from contract farmers, you can enjoy luxurious flavors.
【3】 Rejuvenating digg ... The relaxing digging tatami is available for various scenes.
All-you-can-drink menu
·Highball
· Jim beam high ball / horn high ball
· Chu-hi
· Lemon / lime / yuzu / peach / giant peak / green apple
· Makgeoli
· Seoul Makgeoli
·Sake
· Sake 1 sauce
· Shochu
· 【Wheat】 Nikaido / 【Potato】 Black Kirishima
·wine
· Glass of wine (red / white)
·Cocktail
· Cassis Orange / Fazy Neck / Gin Tonic etc.
·Soft drink
· Oolong tea / ginger / Calpis / cola / orange / black oolong tea
·draft beer
· The premium · Moltz student
·Fruit wine
· Akagi (plum wine / yuzu / orange)
· 【All-you-can-drink premium】 + 1500 yen
· Local sake ... etc
Reservation deadline

2 days before the desired store date until 23 o'clock
Available days for reservation

Monday - Sunday - Public holidays - Holidays
2018/12/27 update